With over one billion active monthly users, visually compelling ad formats and easy management through the Facebook Ads platform, it's no wonder why advertisers have flocked to Instagram in search of return on ad spend.
The average cost per thousand impressions (CPM) on Instagram hovers just over $5, lending to its strong appeal for awareness campaigns. Its competitive average CPC, high engagement rates and comprehensive targeting abilities also attract performance marketers seeking actions further down the funnel.
So, who's doing it best?
Let's dive into 10 thumb-stopping, screen-shotting, heart-tapping Instagram ads campaigns and dissect what makes them great.
1. Airbnb: Retargeting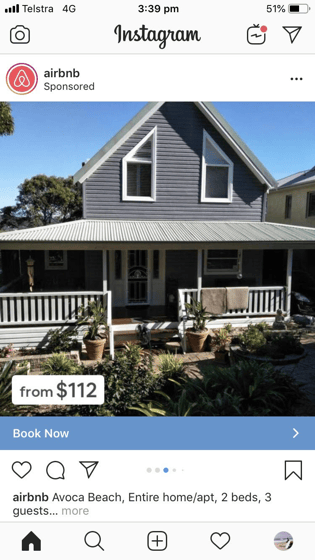 At a glance: Retargeted carousels using Dynamic Ads.
Why it works: Relevance and timeliness.
Ever searched for weekend retreats on Airbnb, only to see their ads for similar properties when browsing Instagram later that day?
Retargeting is the bread and butter of Airbnb's digital ads strategy. They know that compelling their customers to pack their bags for the weekend is often just a few nudges away, and waste no time in serving their prospects retargeted ads to close the deal.
Airbnb achieve this hyper-relevance through Facebook Ads Manager's Dynamic Ads functionality, which connects their massive product catalogue to their ads campaign, with the Facebook Pixel capturing site events that trigger the ads.
2. Tiffany & Co: 'His & Hers'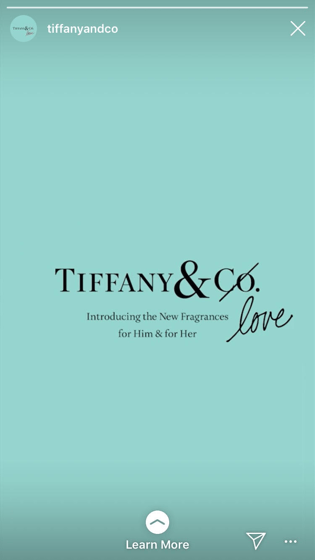 At a glance: Using Instagram ads to support an influencer marketing campaign.
Why it works: Encourages product consideration after influencer awareness.
Tiffany & Co cleverly combine two of Instagram's most popular tactics to achieve great message penetration - targeted ads and influencer marketing.
Their 2019 'His & Hers' fragrance campaign enlisted several high profile influencers to grow product awareness at the top of the funnel. Tiffany then used owned ads with interest targeting, like this Stories placement, to reach prospects who may have been exposed to their influencer messages.
This coordination of tactics, with a combination of owned and 'earned' content, adds depth to the campaign and encourages prospects through the funnel.
3. Chubb: SME Lead Generation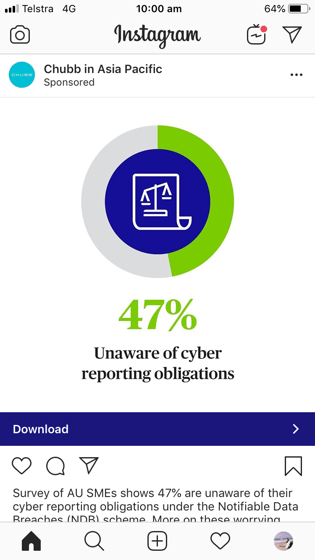 At a glance: B2B lead generation.
Why it works: Prospecting for leads with a targeted content offer.
Instagram isn't just the domain of DTC brands; it's also an effective playing field for B2B marketers working with longer sales cycles.
Chubb knows that closing a deal solely through Instagram advertising is unlikely. Instead, they focus their efforts on driving smaller conversions, in this case, downloading a content offer. They capture attention with a compelling statistic relevant to their audience, offer more insights on a concise landing page, and direct prospects to download the full report to read more. Following that, Chubb can nurture these leads with email automation, subsequent content offers and other ad campaigns.
Chubb's targeting here could be a combination of job title and industry affiliation, and also custom audiences of past website visitors.This is a great example of how Facebook's ads ecosystem can be an effective lead generation tool.
4. Drunk Elephant: 'FBalm'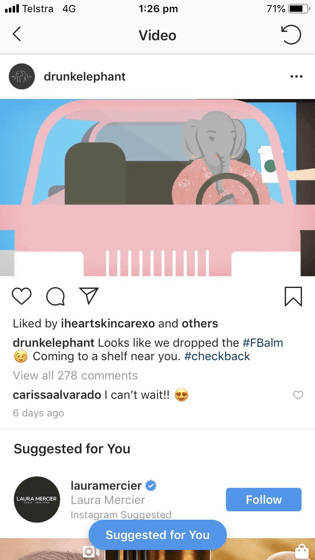 At a glance: Animated mini series to launch a new product.
Why it works: Eye-catching creative and entertaining storytelling.
With all of the advanced targeting capabilities of the Facebook Ads platform, it's easy to overlook the effectiveness of great creative. Drunk Elephant seize the simple power of thumb-stopping storytelling, introducing their new FBalm product with a playful animated miniseries.
This ad sequencing tactic, where brands cutdown their longer narrative into shorter segments, is becoming more popular across several ads platforms. And it works. In fact, Think With Google found a 74% increase in ad recall for videos that used sequences over single 30-second TrueView ad placements on YouTube.
Drunk Elephant's FBalm series taps into this trend with on-brand animations to engage and entertain.
5. Sydney Theatre Company: Under 30s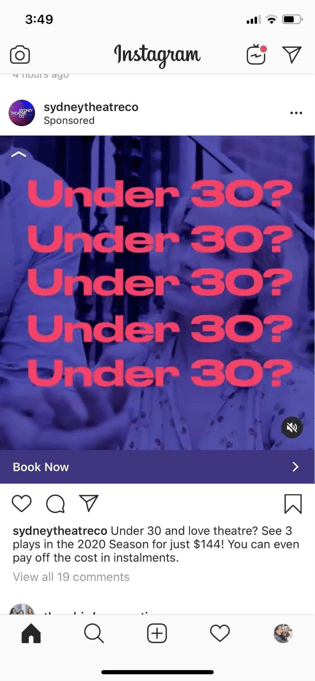 At a glance: Discounted offer using demographic and interest targeting.
Why it works: A powerful combination of relevance and exclusivity.
Everybody loves a good deal, and when it ties directly into our interests, it's hard to resist. The Sydney Theatre Company use a combination of demographic targeting and interest targeting to reach prospects who qualify for their under 30s offer.
In this instance, their saved audience may be framed by:


Geographic location (proximity to Sydney)
Age (under 30)
Interests (theatre, arts and culture, live music, musicals)
6. Uber: 'Ride to the Occasion'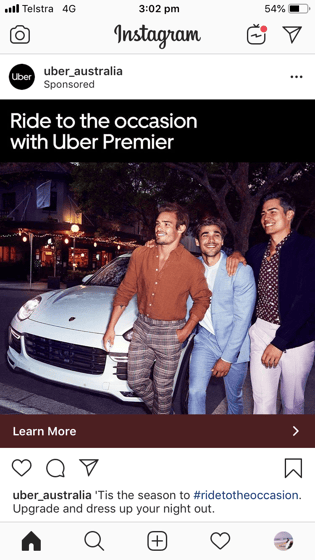 At a glance: Ads promoting their upscale Uber Premier service.
Why it works: Taps into the aspirational nature of the Instagram platform.
At its core, Instagram is an aspirational platform. Even casual users are guilty of cherry-picking the highlights of their lives, airbrushing them with filters, and following people more beautiful, popular and wealthy than they are.
Uber embraces these facts in its 'Ride to the Occasion' campaign. It appeals to the vanity of its audience by using attractive, well-dressed models happily arriving to an event from a Porsche. Their goal is to have prospects thinking "that could be us" and even "imagine the great Instagram content we could get while using Uber Premier."

Coinciding with Christmas, it's also a timely campaign when consumers are most likely to be attending social events and emptying their wallets on discretionary items. As the ad copy says, 'Tis the season'!
7. Impulse Brain Training: 'Can You Solve This?'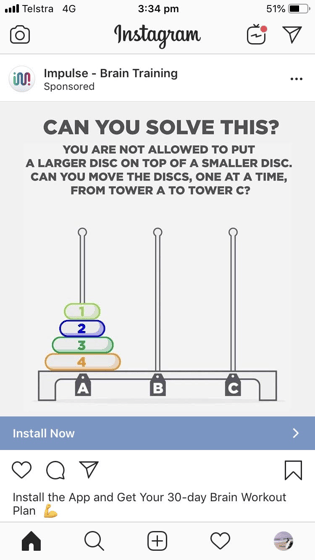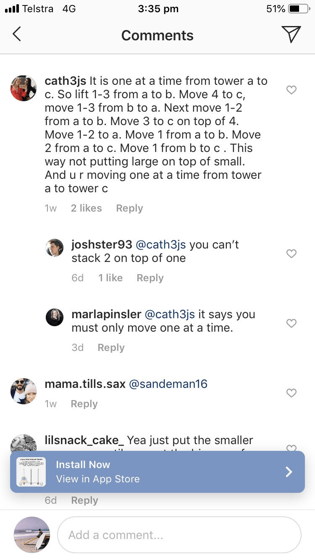 At a glance: Ad campaign promoting their brain training mobile app.
Why it works: Taps into the popularity of internet challenges to drive engagement.
Challenges have emerged as one of the most popular content genres of recent years, driven by youth-oriented platforms like TikTok. This content appeals to our competitive nature, and is proven to drive great engagement. The theory is simple; encourage your audience to invest themselves in solving the puzzle to either improve ad recall or drive an app install.
Gaming apps have been tapping into this digital trend with challenge-like ad placements. This tactic is especially effective with Facebook's playable ads format, which allows advertisers to offer an interactive sample of their app within the ad. However, as this example from Impulse Brain Training shows, the concept can also be applied to static Instagram ads.
Take particular note of the comments; any advertiser would be pleased by this kind of engagement and positive debate with their creative.
8. Dunkin' Donuts: Donut Fries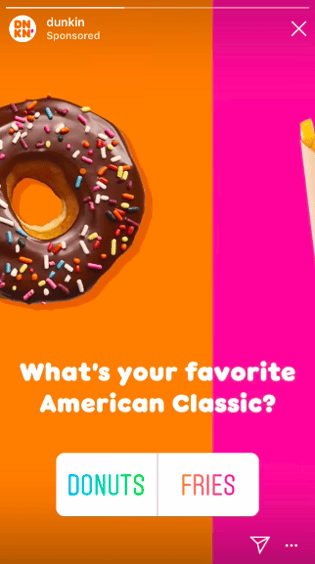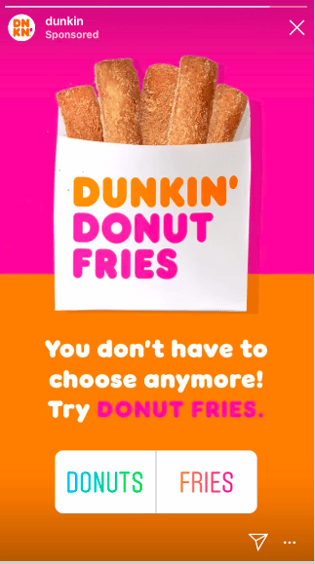 At a glance: Interactive stories ads for audience engagement.
Why it works: Introduces their new product in a playul format.
One of the primary goals of any advertising is to elicit a response from your audience. Whether it's a laugh, an 'aha' moment or a click to learn more, encouraging engagement with your ads strengthens your audience's connection with your brand.
Dunkin' Donuts zero in on this engagement goal by using Instagram's interactive stories ads, which allow advertisers to create polls within their placements. They capture attention by putting two American classics to a vote (donuts and fries), and close the spot by introducing their new product. This simple format proved to lower their cost per video view by 20%.
As you can see, businesses of all shapes and sizes have a lot to gain with Instagram advertising. Whether you're focussed on awareness, lead generation or driving conversions at the bottom of the funnel, Instagram's advanced targeting capabilities and engaging ad formats make it an effective channel in your digital advertising mix.
Interested in exploring how you can take advantage of Instagram ads? Get in touch with us today to discuss how our Digital Advertising services can help you grow.