With the Coronavirus pandemic continuing to send shockwaves throughout the business community, marketers from all industries have faced the same question: "how do we respond?"

While a proactive public response may not be appropriate for your business, many global brands have seized the opportunity to strengthen connections with their audience and build valuable goodwill.
Here are eight blue-chip brands who have taken the lead in responding to the pandemic.
1. Nike
As an aspirational brand that ordinarily inspires people to be active outdoors, it's unsurprising to see Nike respond quickly to the Coronavirus crisis.
Calling on their audience to contribute to "the team", they responded with a simple "Stay inside, play for the world" message; encouraging them to be united in social distancing. This language gave their followers a strong sense of community, and demonstrates how simple messaging can be an effective call to arms.
At a time when competing brands like Adidas were reluctant to close their brick and mortar stores, Nike's commitment to social distancing painted them in a positive light.
2. Pret A Manger
The international food chain based in the UK, Pret A Manger saw an opportunity to support on a deeper level. The company initially enforced takeaway only across all UK stores in order to reduce social interaction. Prior to closing their stores completely, Pret announced that all NHS medical workers were eligible for free hot drinks, along with a 50% discount on all other products.
Pret's swift policy was an early example of how brands were able to strengthen community sentiment by supporting front-line workers during the COVID-19 pandemic.
3. Coca-Cola
In line with Nike's aspirational messaging, Coca-Cola's clever reinterpretation of their iconic logo proved to be a massive media moment for the global brand. Supported with a Times Square billboard, their spaced-out logo represented the need for social distancing in the city, which was quickly developing as an epicentre of the crisis.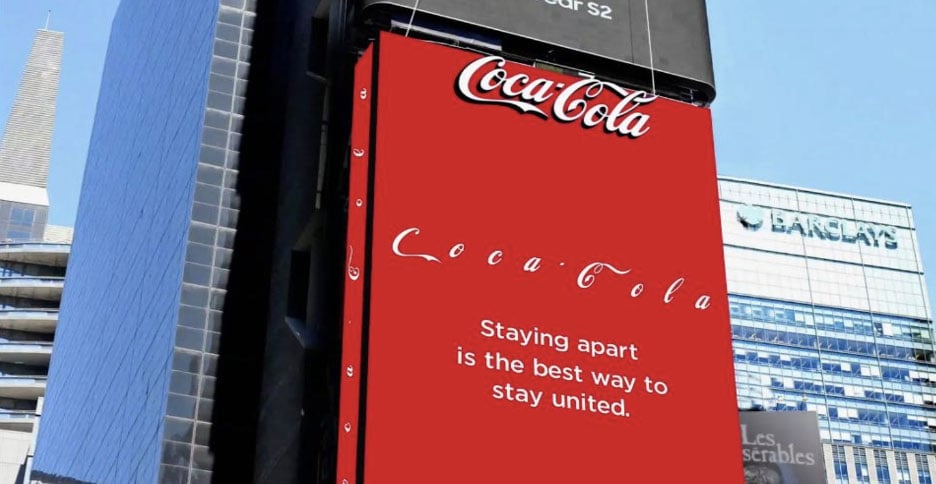 Coca-Cola UK has also shown their support for the individuals that are on the front line during the Coronavirus pandemic. The brand thanks doctors, social workers, teachers and supermarket workers by stacking their titles up in the shape of a Coke bottle that was shared on social media.
Thank You ❤️ pic.twitter.com/0p2OyoPFeH

— Coca-Cola GB (@CocaCola_GB) March 23, 2020
4. Ford
The iconic American car retailer showed their support early on in the crisis with a campaign titled "Built to Lend a Hand". This advertisement takes viewers on a journey through many tough times when Ford has gone above and beyond to support during a crisis. It ends with "now we're here to lend a hand again", acknowledging customers who have been impacted by COVID-19 and are currently leasing or financing a car from the company.
5. Krispy Kreme
From March 30th, Krispy Kreme offered free original glazed doughnuts every Monday to all healthcare workers fighting the Coronavirus pandemic. The company has taken to their social media to spread the word and share user-generated content from the simple gesture.
Krispy Kreme is also giving back to their customers by launching #BeSweetSaturdays on their Instagram. If you purchase a dozen original glazed doughnuts on a Saturday, they'll give you another dozen for free. The company is then encouraging customers to give the free dozen to a neighbour as an act of kindness.
6. Budweiser
The US beer icon released an advertisement that acknowledged the heroes working on the front line, including nurses, doctors and paramedics. The ad also nods to the athletes, school teachers and public staying at home, stating that we are #OneTeam; a similar collective message used by Nike.
The emotional spot is supported by Budweiser's pledge to use its sporting investments to host Red Cross blood donations in stadiums during COVID-19.
The Budweiser Brewing Group also launched, "Save Pub Life", a campaign that encourages people to buy a gift card now to spend later at their local pub. Budweiser has pledged to match the value of each gift card up to a combined total of £1 million.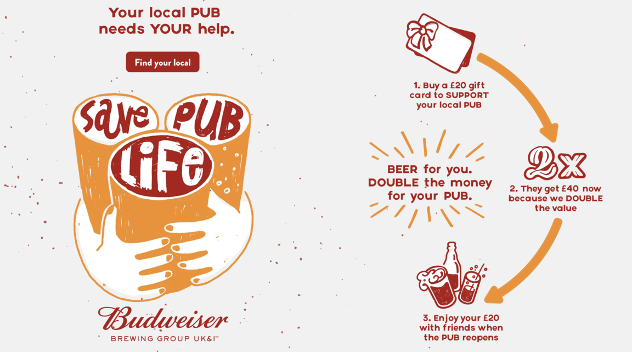 7. Allbirds
The US shoe company announced on their Instagram that they would be donating their signature wool runners to anyone working in the healthcare industry as a way of giving back to those working on the front line. After donating $500,000 worth of sneakers, Allbirds decided they needed help from the public and offered a "buy one, give one" option for US online shoppers.
8. Disney+
Disney+ demonstrated that even the smallest gestures can translate to goodwill with your audience. The streaming giant released "Frozen II" earlier than the scheduled date, giving families a great night in during social distancing.
Surprise! #Frozen2 is coming early to #DisneyPlus. Start streaming this Sunday. pic.twitter.com/5xXAFCGArV

— Disney+ (@disneyplus) March 14, 2020
As you can see, times of crisis demand a considerate, timely and strategic public response from businesses. As many of these examples demonstrate, these public gestures don't need to be grand to yield positive sentiment from your audience.
While a public-facing campaign may not be appropriate for your business, it's clear that proactive communication can strengthen relationships with your audience, build goodwill and brand equity.