[vc_row fullwidth="false" attached="false" padding="0"][vc_column width="1/6"][vc_column_text]
[/vc_column_text][/vc_column][vc_column width="2/3"][mk_padding_divider size="40"][mk_custom_box border_width="1" bg_color="#f6f6f6" bg_image="http://www.spinfluence.com.au/wp-content/uploads/2017/02/Untitled-22.jpg" bg_position="left top" bg_repeat="repeat" bg_stretch="false" padding_vertical="30" padding_horizental="20" margin_bottom="10" min_height="300"][mk_padding_divider size="35"][mk_fancy_title tag_name="h1" color="#ffffff" size="54" font_weight="bold" letter_spacing="0" margin_top="0" margin_bottom="18" font_family="none" align="left" style="false" font_style="inhert"]5 Reasons Why Less is
More for Your Website[/mk_fancy_title][/mk_custom_box][/vc_column][vc_column width="1/6"][vc_column_text]
[/vc_column_text][/vc_column][/vc_row][vc_row][vc_column width="1/1"][vc_column_text]
[/vc_column_text][/vc_column][/vc_row][vc_row fullwidth="false" attached="false" padding="0"][vc_column width="1/6"][vc_column_text]
[/vc_column_text][/vc_column][vc_column width="2/3"][mk_padding_divider size="15"][vc_column_text disable_pattern="false" align="left" margin_bottom="0"]
In 2005, British student Alex Tew sold each pixel of his website for $1 to advertisers. The result was the Million Dollar Homepage, a curious piece of internet history which looks like this: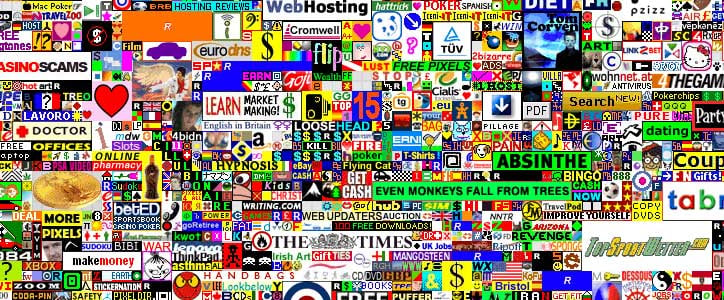 Web design and online advertising sure have come a long way.
Today, brands don't compete for space (or pixels), they compete for attention. And as anybody competing online can testify, attention is a rare commodity. Microsoft research even found that human beings now boast an attention span shorter than a goldfish - eight seconds, to be exact.
(What was I saying?)
Oh yes, enter; minimalist website design.
Let's dive into five reasons why less really is more when it comes to your website design, and why the best-performing sites are strategically simple.
1. Increase Your Website's Conversion Opportunities
Businesses often fall into the trap of using their website like a showreel of everything they've ever done, everyone they've ever done it for, and everything they intend to do next. Website visitors are assaulted with information that they don't need. Worse, they find it impossible to find the information they do need, and bounce off the site never to return.
Minimalist website designs are all about a smooth and direct path to purchase. After all, visitors shouldn't be made to fight to find a 'request a quote' form. If your visitors can't grasp who you are, what you're selling and how to get it within those eight crucial seconds, you've let a distracting design waste a conversion opportunity.
Minimalist websites strip out each and every pixel that doesn't contribute to an easy path to conversion. Take trivago, for example. The global travel bookings powerhouse attracts millions of site visitors a month. What do they see? This: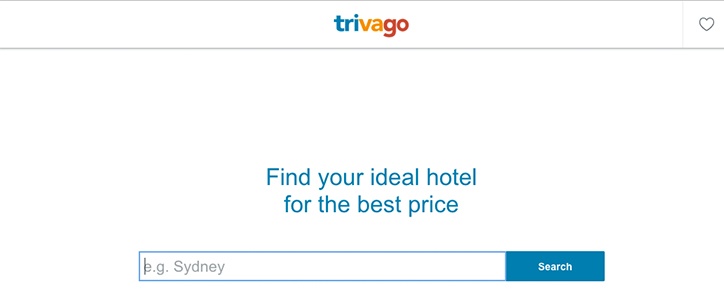 "Yes, but visitors know what they want from trivago - they want to search for accommodation. I need visitors to see what my services are and why they should care on my homepage."
We hear you. However, you also need visitors to understand what they should do next.
Imagine waiting in line at a coffee shop and it's your turn to order but you can't read the menu board because the text is too small and there's writing about food mixed in with the drink section and multiple specials crammed in-between the text and you're confused as to what you want to order or what you're actually getting and you start to feel like you would rather just shop somewhere else because this is all too difficult.
Overwhelming, right?
Minimalist websites communicate products and services to visitors in ways they can understand. They then show website visitors where they can go next to learn more, get in contact, and buy. Clear calls-to-action and a clear path to purchase.
2. Aesthetics Matter
It's important to note that minimalism doesn't mean stripping away everything relating to style and design. It is called website design, after all.
It may sound pretentious, but aesthetics are incredibly important to a user's experience of your website. Treat your website visitors like visitors to your home - with tidiness and respect for good taste. Poorly structured websites are distracting. Dated designs take your brand back to 1995.
Visual complexity affects a user's perception of a website within 50 milliseconds of exposure, meaning a visually pleasing site will result in a more positive perception of your brand.
The Mail Chimp website is simple and eye-pleasing, delivering a strong brand voice and identity: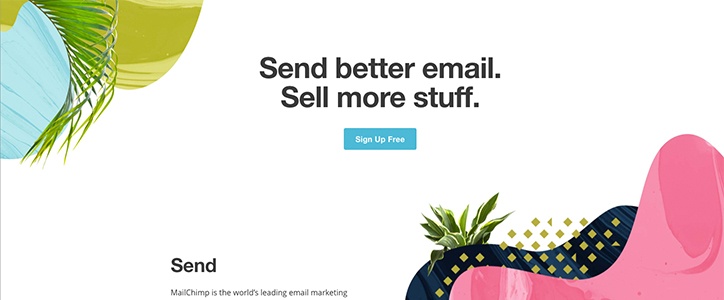 3. GDD (Growth Driven Design)
Growth Driven Design is a modern approach to website design whereby elements of a site are continually tested and improved. It's based on the Japanese philosophy of 'Kaizen', which translates to 'improvement.' Toyota famously adopted the business approach of continual incremental improvements to become the automotive powerhouse we know today. GDD websites begin as strategic launchpads, then evolve into unstoppable conversion beasts where no click is lost and no visitor disappointed.
We love Growth Driven Design, and we're HubSpot Growth Driven Design Agency of the Year.
We used Growth Driven Design to increase Buildsoft's monthly lead volume by 93% and conversion rate from 0.6% to 5.07%. You can read more about our success with Buildsoft here.
But back to your website.
4. Testing Your Website's Performance
Testing is central to everything we do as marketers. But a homepage with 40 buttons, 50 colours and 60 calls-to-action makes conducting strategic tests like trying to boil the ocean. Minimalist websites are built for testing, where a spike in conversion can be pinned down to a colour change, copy adjustment or fresh content offer.
Click tracking programs like HotJar provide great analysis into how visitors are engaging with your site. It displays a map of the clicked areas of your website pages so you can strip away unnecessary distractions. Have a CTA with a 0.06% click rate? A simple change from 'get a demo' to 'request a quote' can mean the difference between wasted visitors and growing your business.
There are countless variables to test on even a minimalist website, including images, copy and headings, banners and messaging.
5. Communicate Your Brand
Cast your mind back to Volkswagen's iconic 'Think Small' campaign, which endures as one of the most brilliant uses of white space in print advertising today. Digital comparisons can be made to Apple's sparse, product-driven website, where brand is everything. Visiting Apple's website is like stepping through the door of a futurist oasis where everything is an impeccable shade of black, white and grey.
The point is, minimalist websites allow your brand to shine through.
Your website is the face of your brand, and more often than not, it's a first impression for your visitors. Make it a good one.
To discuss how your business can grow through strategic website design, or to chat about our Growth-Driven Design services, get in touch with us here.
[/vc_column_text][mk_padding_divider size="55"][/vc_column][vc_column width="1/6"][vc_column_text]
[/vc_column_text][/vc_column][/vc_row][vc_row fullwidth="false" attached="false" padding="0"][vc_column width="1/6"][vc_column_text]
[/vc_column_text][/vc_column][vc_column width="2/3"][mk_custom_box border_width="1" bg_color="#666666" bg_position="left top" bg_repeat="repeat" bg_stretch="false" padding_vertical="20" padding_horizental="20" margin_bottom="0" min_height="100"][mk_fancy_title tag_name="h2" color="#ffffff" size="36" font_weight="bold" letter_spacing="0" margin_top="0" margin_bottom="18" font_family="none" align="center" style="false" font_style="inhert"]
Determine Your SMART Marketing Goals
[/mk_fancy_title][mk_divider divider_width="full_width" border_color="#ffffff" margin_top="20" margin_bottom="20" style="thin_solid"][mk_fancy_title tag_name="h2" color="#ffffff" size="28" font_weight="300" letter_spacing="0" margin_top="0" margin_bottom="18" font_family="none" align="center" style="false" font_style="inhert"]
(FREE) Goal-Setting Excel Template.
[/mk_fancy_title][/mk_custom_box][mk_image src="http://www.spinfluence.com.au/wp-content/uploads/2015/01/CTA.jpg" image_width="792" image_height="257" crop="true" lightbox="false" frame_style="simple" target="_self" caption_location="inside-image" align="left" margin_bottom="0" svg="false" group="_general"][mk_custom_box border_color="#c6c6c6" border_width="1" bg_color="#eeeeee" bg_position="left top" bg_repeat="repeat" bg_stretch="false" padding_vertical="30" padding_horizental="20" margin_bottom="10" min_height="100"][vc_row_inner][vc_column_inner width="1/4"]
[/vc_column_inner][vc_column_inner width="1/2"][vc_raw_js]
JTNDZGl2JTIwYWxpZ24lM0QlMjJjZW50ZXIlMjIlM0UlM0NzY3JpcHQlMjBjaGFyc2V0JTNEJTIydXRmLTglMjIlMjBzcmMlM0QlMjIlMkYlMkZqcy5oc2Zvcm1zLm5ldCUyRmZvcm1zJTJGY3VycmVudC5qcyUyMiUzRSUzQyUyRnNjcmlwdCUzRSUwQSUzQ3NjcmlwdCUzRSUwQSUyMCUyMGhic3B0LmZvcm1zLmNyZWF0ZSUyOCU3QiUyMCUwQSUyMCUyMCUyMCUyMHBvcnRhbElkJTNBJTIwJTI3MzI1NTAzJTI3JTJDJTBBJTIwJTIwJTIwJTIwZm9ybUlkJTNBJTIwJTI3N2Q0OGI4YzUtN2IyNi00ZGRmLWFlYTQtMTQ4Y2RiMjBhYTRkJTI3JTBBJTIwJTIwJTdEJTI5JTNCJTBBJTNDJTJGc2NyaXB0JTNFJTBBJTNDJTJGZGl2JTNFJTBB
[/vc_raw_js][/vc_column_inner][vc_column_inner width="1/4"]
[/vc_column_inner][/vc_row_inner][/mk_custom_box][/vc_column][vc_column width="1/6"][vc_column_text]
[/vc_column_text][/vc_column][/vc_row]