1. Focussing on the user will engage your inbound marketing fundamentals, like persona documents, to unearth the challenges unique to your audience. These challenges should be top of mind throughout your website project, which should aim to alleviate them through strategic design that aligns with your business objectives. Before making any design decisions, get into the habit of asking yourself, "what would the user do." Better yet, qualify this with data.
2. In "unbounding" your creativity, you encourage yourself to think beyond the traditional process of website design and muster unique solutions to your buyer's problems. Growth-Driven Design may deliver real revenue growth for your business, but it's also a personally enriching and enjoyable experience.
3. Getting stuff done is the answer to "paralysis by analysis." GDD depends on change, because without it, there is no improvement. Let the data do the talking and act on it strategically. Remember, "failure" is encouraged in Growth-Driven Design, but it's a methodology that doesn't encourage failing the same way twice.
4. Which is where it's important to always be learning. Ensure you have a system that supports consistent documentation of your findings, so the data you act on is up-to-date and correct.
A Growth-Driven Design Spreadsheet
Every aspect of your website should be tested, optimised and iterated, which can be overwhelming to document. The following is a simple Google spreadsheet template that segments action items by priority, their perceived impact, their target metric, funnel focus, and effort required from delivery teams. Download the template here.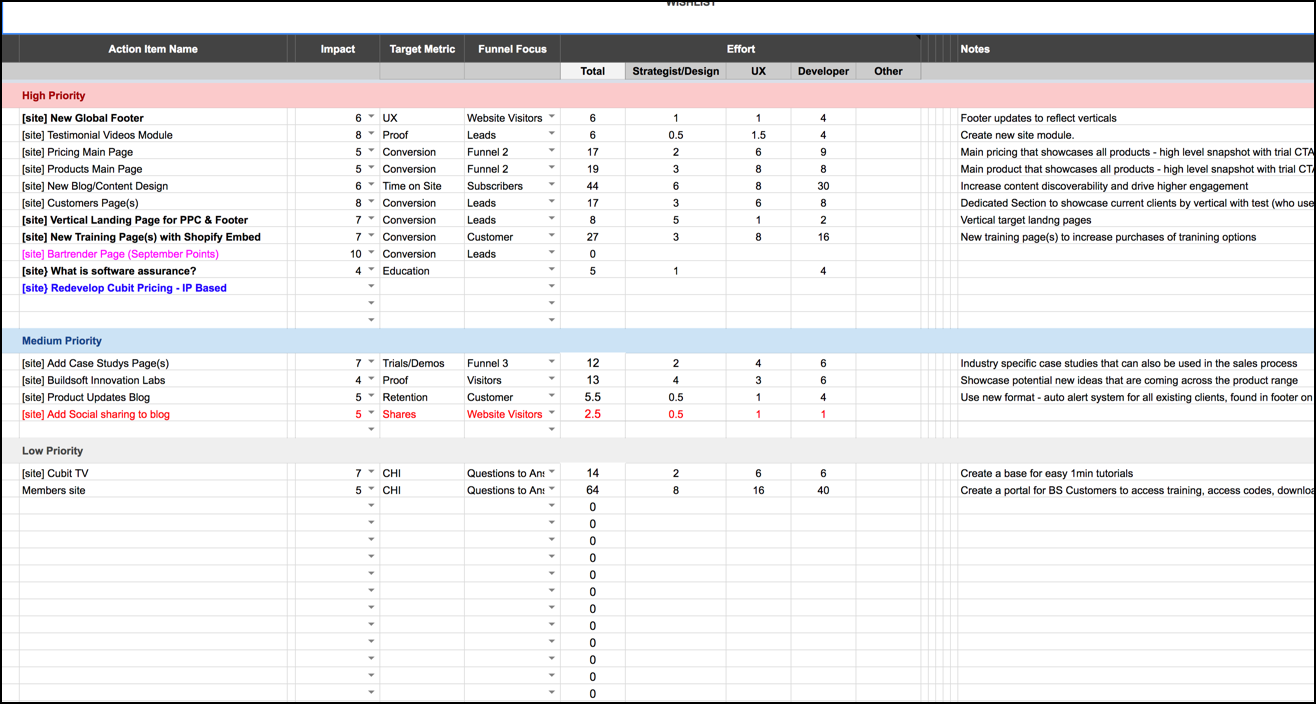 Other spreadsheets should serve as a centralised location for analytics data, down to individual call-to-action performance and conversion data, you can request a copy of our custom CTA analytics spreadsheet that we use internally for our Inbound and GDD client base by emailing us here.
5 Elements of Your Website to Analyse
The GDD Methodology should be applied to improving your existing website, even without a redesign project underway. The following are five elements of your website to test and optimise to drive revenue performance and with any luck, reduce the cost of acquisition in the process.
1. CTAs
Calls-to-action are often the first place marketers look when their visit-to-lead conversion rates are disappointing. Placement, copy, colour, design, size, frequency and prominence all impact the performance of your calls-to-action, and should each be tested individually. A few general best practices include using actionable language, designing your button to appear clickable, using contrasting colours, using personalisation based on your audience's lifecycle stage and removing extraneous distraction surrounding the button.
Don't underestimate the impact of minor changes. In the case of our Growth-Driven Design work with Buildsoft, we found that a call-to-action urging visitors to "Talk to Sales" was underperforming. Using the same design and placement, we changed this to "Request a Quote." This copy change alone resulted in a 400% increase in CTA click-through-rate.
2. Copy
Your messaging, your unique value proposition and your tone of voice should each be put under the microscope. Copy that doesn't speak the language of your prospects, that doesn't speak to their challenges and aspirations, and that doesn't compel them into action can have detrimental effects on the performance of your site.
Your landing pages are a great place to conduct copy tests. Play with length and tone, and zero in on the challenges these prospects may be facing (and how your content offer solves them).
3. Imagery
The images you include throughout your site are an often-overlooked testing focus. Poor resolution, irrelevant, distracting, confusing, insulting and confronting images can result in high bounce rates and poor conversion, just like great images can be a game-changer for time on site.
4. Architecture
What do you currently include beneath the fold on your homepage? A list of services, followed by a testimonial, then another list of features and a pricing table? The architecture of your homepage (which information goes where) should also be tested and optimised. You may find that including testimonials before features distracts your visitors, or that they're unsuitable for the homepage altogether.

5. Blog
As a powerful tool to engage your visitors, boost overall time-on-site, drive organic traffic and generate leads with relevant calls-to-action, your blog should also be subjected to ongoing analysis and optimisation. This may be in identifying the topics that resonate best with your target audience, analysing the individual blog posts that receive the most organic traffic, determining the ideal length and structure of posts, or experimenting with the design of the blog itself.
For example, we have improved blog performance for a number of clients by creating a design that emulates a social news feed. By making simple changes to the user experience, we have kept visitors engaged for longer, attracted more eyes to our landing pages, and generated more leads because of it.
The traditional website design model is frustrating, inefficient and in many cases ineffective. The Growth-Driven Design methodology is a strategic answer to what was a hair-pulling process in the past. If you'd like to discuss growing your business through GDD with Spinfluence, get in touch with us today.